However close the eggs thrown by Tajik opposition activists in Berlin came to President Emomali Rahmon's car — and some may well have been on target — the authorities' reaction has been swift.
In Tajikistan, more than 20 relatives of some protesters who tainted Rahmon's official visit to Germany were detained by law enforcement, according to RFE/RL's Tajik Service, after raids began over the weekend.
"Security forces came to our home and wanted to take my elderly mother away, but they instead decided to take my nephew," said Farhod Odinaev, a German-based Tajik activist who spent 43 days in a Belarusian detention center after being detained on a Tajik request in 2019.
"They asked my mother why [the opposition abroad] threw eggs at the 'Leader of the Nation's' car," Odinaev told RFE/RL.
The mother of another opposition activist, Sharoffidin Gadoev, was not so lucky.
According to Gadoev, Oishamo Abdulloeva, 72, was detained on the morning of October 1. Like Odinaev, Gadoev claimed the September 29 egg attack on Rahmon's cortege — now the muse for many a meme on social media — was raised by officers that came to the family home.
"As they were taking her away, they angrily asked her why her son calls [Rahmon] a dictator, why he threw eggs at the president's car in Berlin, [why] can't he just live calmly?" Gadoev said.
Police and security forces in Tajikistan have still not commented on the arrests.
According to RFE/RL sources, Abdulloeva was one of more than a dozen people released in the early hours of October 3.
At least seven relatives of the oppositions activists — all men — are still being held.
'Even Distant Relatives' Suffer
Rahmon's regime long ago stamped out any meaningful political dissent at home, with the top leaders of the moderate opposition Islamic Renaissance Party of Tajikistan (IRPT) sentenced to long prison terms in 2016 over what authorities described as a coup attempt.
Nowadays, tolerance of any criticism inside the country is close to zero.
The emergence of a politically active diaspora in Europe was a natural outgrowth of this tightening domestic repression, and authorities have been doing their utmost to chase critics based in European cities like Berlin, Vienna, and Warsaw back to their homeland to face trial on dubious charges.
In Berlin, hunter and hunted came face to face, as Tajiks and natives of other Central Asian countries staged protests to coincide with German Chancellor Olaf Scholz and President Frank-Walter Steinmeier hosting the region's five leaders.
And then there were the scenes of a young man throwing eggs at what appeared to be Rahmon's presidential cortege.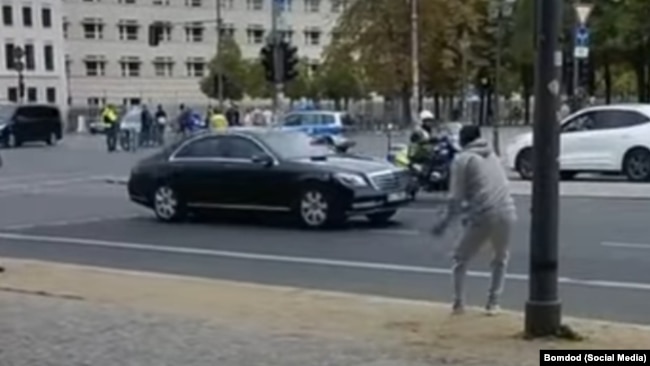 Tajik authorities have long depicted foreign-based opposition groups as being extremist without offering any proof for their assertions.
It was one of these groups — Gruppa 24 — that claimed the egg attack, boasting that several supporters had managed to land eggs on the motorcade "despite the increased security measures taken." Images of Rahmon's car after he was greeted by Scholz appear to confirm that some of their shots were successful.
A member of the group was detained by German police for a few minutes before being released, Gruppa 24 said in its statement.
That was lenient compared to the raid on the Tajikistan family home of one of the group's members, which Gruppa 24 said saw no fewer than seven of Dilshod Sharifov's relatives taken into custody.
State harassment of Tajik activists' families is a longstanding and intensifying trend, with protests such as those in Berlin or the appearance of Tajik activists at the Organization for Security and Cooperation in Europe's annual Human Dimension Implementation Meeting in Warsaw often serving as triggers, according to Central Asia-focused rights lawyer Steve Swerdlow.
"Elderly parents, siblings, and even children of Tajik activists abroad who dare speak out against the government's human rights abuses at peaceful protests or international conferences are called in for aggressive questioning, fired from jobs, and in many cases made to denounce their own relatives' activities," Swerdlow, an associate professor of human rights at the University of Southern California (USC), told RFE/RL.
In some cases, such as the case of Ilhomjon Yakubov, a Lithuania-based human rights defender originally from the northern Tajik city of Khujand, the relatives falling under state pressure can be quite distant, Swerdlow noted.
"[Yakubov] says that even distant relatives of his in Tajikistan have been targeted and that pictures of his parents and siblings and himself have been hung up all around Khujand and Dushanbe" after Tajik officials accused the rights defender of terrorist crimes, said Swerdlow.
Either You Or Your Family
Tajikistan has in recent years gained a reputation for being one of the most ardent practitioners of transnational repression, a phenomenon the U.S. rights monitor Freedom House defines as "reaching across borders to silence dissent among diasporas and exiles, including through assassinations, illegal deportations, abductions, digital threats, Interpol abuse, and family intimidation."
And while allies of Tajikistan such as Russia and Belarus represent particularly dangerous jurisdictions, Western Europe is not always the safe haven that Tajik asylum seekers would like it to be — as a recent report authored by Swerdlow and the USC Human Rights Advocacy group for the NGO known as Crude Accountability attests.
The report, Enforced Disappearances In Tajikistan, addresses dozens of instances of activists being detained and held incommunicado by Tajik security forces, many of whom were apprehended abroad.
For activist Hizbullo Shovalizoda, deportation and imprisonment in his home country came swiftly after an Austrian court rejected his application for asylum in 2020.
Vienna's Supreme Court later overturned that decision as illegal, but by the time the wheels of Austrian justice were moving in the right direction for Sholivzoda, he was already in Tajikistan awaiting what would be a 20-year prison sentence following a closed-doors trial that rights groups considered a sham.
Earlier this year Abdullo Shamsiddin, the son of a member of the IRPT, was also deported to Tajikistan from his temporary home of Germany.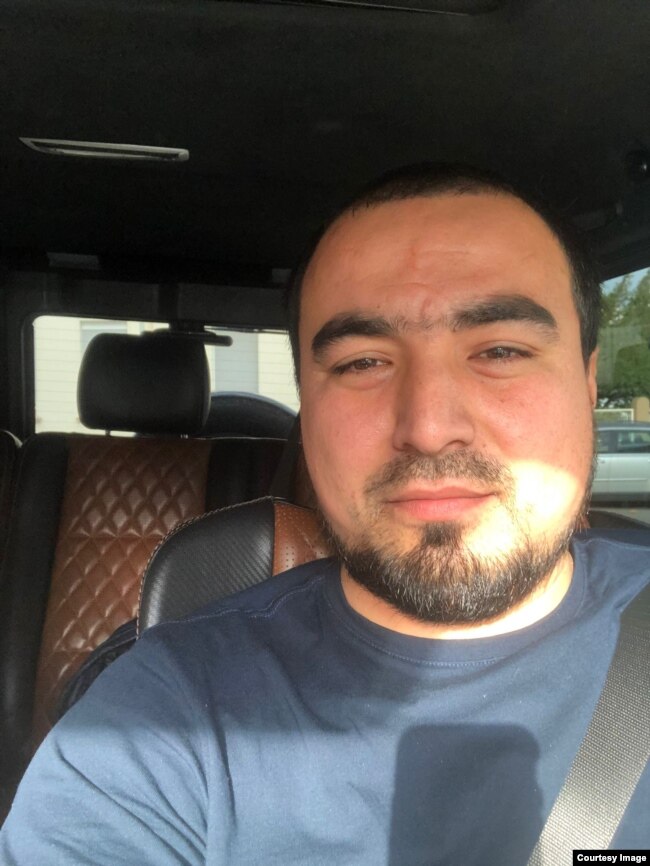 Shamsiddin was reportedly sentenced in March to seven years in jail for calling for the violent overthrow of the government — an accusation that does not seem rooted in any publicly available evidence.
Gadoev, whose pensioner mother was arrested in Tajikistan over the weekend and who was seen in footage leading the Berlin protests, almost met the same fate in 2019.
Gadoev claims he was beaten badly and subjected to psychological intimidation after being abducted during a visit to Russia and sent to Tajikistan.
Amid unexpectedly large attention being paid to Gadoev's case, the government subsequently allowed him to return to the Netherlands, where he had been living.
Were cases like Shamsiddin's raised with the Tajik delegation by top German officials during last week's visit by Rahmon?
In a statement ahead of the Germany-Central Asia confab, rights watchdog Human Rights Watch noted that Russia's war in Ukraine — and the West's anxiety that Russia's neighbors uphold Western sanctions in response — "has sparked a new focus on this strategically important, resource rich region."
"The shock waves sent by Russia's invasion of Ukraine have prompted Central Asia's leaders to seek stronger ties with other allies, including in Europe. Germany should make the most of this newfound engagement, but on terms that promote the rights of the peoples throughout the region," Hugh Williamson wrote.
Yet the words "Democracy and the Rule of Law" did not appear until page two of a six-page readout from Scholz's office that referred to "an open and constructive exchange" between the chancellor and the five leaders.
Source: RFE/RL